Winterize Your Plumerias:
Prepping & Protecting Plumerias for Winter In So Cal
Sunday, October 24, 2021
9:00 a.m.
Price: $50 – limited tickets available!
Includes hands-on instruction, extensive Q&A, door prizes(!), and a tour of the farm's plumeria operation.
Atkinson Plumeria Farm, 5239 Alzeda Dr, La Mesa CA 91941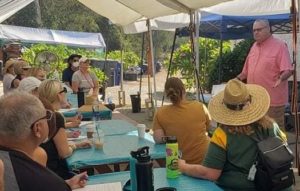 While plumerias have adapted well to Southern California's temperate/Mediterranean climate, winter is still the most dangerous season for our plants. Mike's experience growing in a cold climate in San Diego's east county has given him the tools to help others protect their plants.
This is Mike's most popular topic every year, but this is the first time he's offered it an in-person, intimate setting on his farm. He'll not only talk about what to do, but he'll show you, as well. The 2-hour format will also allow for an extended question-and-answer time.
He'll be covering:
Watering needs
Fertilizing
What to do with cuttings
Protection from cold temps and frost
What to do with cold damage
What's with leaves in autumn
Regional conditions
Q&A time
and much more!
What to bring:
Wear sunscreen
Water bottle (refills provided)
Hat
Close-toed shoes
Aloha spirit
Check-in begins 15 minutes before the event start time. The event will start promptly at 9 am. Give yourself time to set up so you do not start late. Coffee and water will be provided.
We will be outside under shade. Mask-wearing is optional.
TESTIMONIALS
"I thoroughly enjoyed the presentation. Mike, you are so engaging and knowledgeable. You kept the class to a manageable size, which made it easy for me to follow as I am hearing impaired. Your assessment of people's questions seemed to be spot on as well. As a new plumeria gardener, I need all the help I can get to succeed. " Clare
"Took his class and it was fantastic! Learned new things and learned I was actually doing some things right!! Took questions all through the class so all mine were answered. Even got to walk around and admire his endless trees! Would highly recommend it!" Lisa
TICKETS & MORE INFO: 9:00 am Class
NOTE: If the class is sold out, email us to get on the waitlist.
Mike has been growing plumerias with his wife Stacy on Mt Helix for over 20 years. The PBS program "A Growing Passion" featured Mike on their Emmy-winning episode about plumerias. He has taught plumeria workshops in Southern California (San Diego Horticultural Society, San Diego Botanic Garden, Master Gardeners, plus many garden clubs and nurseries), all US plumeria societies, and the International Plumeria Conference in Florida. He is a longtime volunteer with the Southern California Plumeria Society, has authored many articles, and has been interviewed many times, including by the Los Angeles Times.